Anti-Zionism is the New Anti-Semitism
Posted by
Eileen Hart
on February 18, 2014
Anti-Israel rhetoric on social media is peaking at levels I have never seen before. Personal attacks and being called pigs, vermin, and filth is what the Jews went through in Europe during World War II. History is repeating itself. In the Ukraine, anti Government protests against a near 70 year dictatorship backed by Putin, is causing violence at levels not seen since Hitler was in power. Jews have outlived every enemy in our midst. We will outlive this too. These attacks are only a reminder that G-d is in control of everything. When everything DOES turn out okay for Israel, as it will, we will know it is because of Him.
Anti-Israel people are trolling pages of pro-Israel individuals such as myself and attacking us for being like the Nazis. Accusations that Israel is living on stolen land are being recycled into deceptive language such as "two-state solution." That two-state solution is code for when we get what we want, we'll take all of it.  Do not be fooled by the Palestinians who say they want to live side by side in peace with Israel. The will never accept Israel as the Jewish state.
Today, if you support Israel, then you are automatically against Palestine. I have news for you. There is no Palestine. It is a made up land. In 70 AD, the Romans destroyed our blessed second Temple, murdered hundreds of Jews in Israel, outlawed the study of Torah, made circumcision for Jewish baby boys illegal.  They renamed it Palestine in order to degrade, besmirch and wipe away any memory of Jewish existence in our ancestral homeland.
Titus walked into our Temple during its destruction and defecated on our Torah scrolls, and committed sexual acts with prostitutes. The Romans stole many of our holy vessels and off to Rome they went with them.
The Palestinian Arabs have a homeland; Jordan and Syria. When the armistice lines were drawn in 1948, Israel accepted and the Arabs refused, this entering the War for Independence in 1948 with seven Arab nations. Israel defeated all of them. During that time, Jordan and Syria expelled the Palestinians from the refugee camps and who do you think took them in? Israel. When the UN declared Israel a state, she went right to work on rebuilding the barren wasteland the Arabs turned it into. They wanted a piece of the Jewish pie, however, we were building on our land, and they got angry and resentful that they had nothing.  It isn't that they had nothing. THEY CHOSE TO HAVE NOTHING.
The accusations of stolen land are recycled over and over again because they have no proof that Palestinians existed in Israel the way Jews did for over 5,000 years.  Find me one ounce of archeological, written and biblical proof that Jews never existed in Judea and Samaria.  They are not entitled to a state of their own. They are made up by the UN in order to take down any existence of Jewish life in that region.
We who love Israel, who have lived in Israel, and have family in Israel have the g-d given right to think they way we do. We don't take orders from those who seek to finish what Hitler started.  WE are commanded by G-d to bless Israel, for if we do not, we will be cursed.
Below  is a snippet of what we're facing.  I'm reminded of that scene in Schindler's List "Goodbye Jews."  The anti Israel peace activists were either bullied as children or failed at everything they ever did in life, and resort to blaming the Jews for their failures.  I'm wondering if Mr. Heyn dresses as Eva Braun in drag and reads Mein Kampf by his fireplace.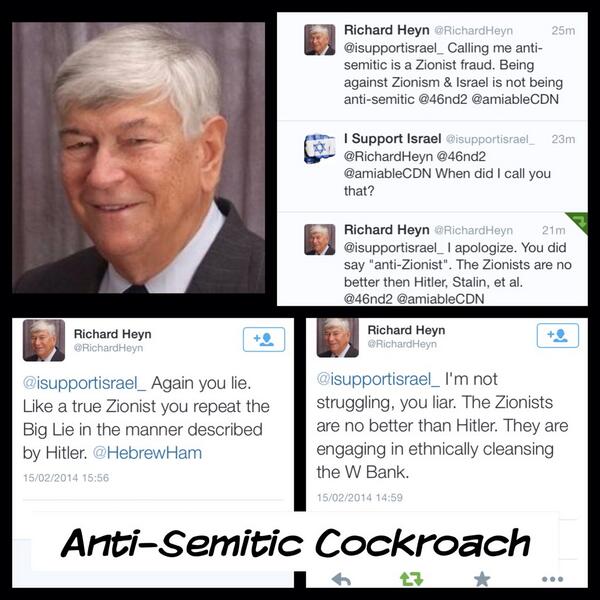 The following two tabs change content below.
Eileen Hart is a religious zionist who is passionate about Israel. Eileen articulates Israel's right to exist and defend herself on a daily basis. She has been working in pro Israel activism for almost 20 years and has engaged in outreach to fellow Jews who are uneducated on Israel and the truth about its conflict with Palestinians. Eileen devotes her time to homeschooling her daughter and writing the truth about the world's misconception about Israel.
Latest posts by Eileen Hart (see all)